Jeremy Brown is a NRA certified handgun instructor and certified Israeli Tactical Point Shooting (ITPS) instructor. He is holding two live fire courses in May: Pistol 101 for first-time or beginner shooters (May 17 9am-12pm); and ITPS Refresher: Malfunctions and Speed Reloads designed but not limited to those who have completed ITPS 1 (May 17 1pm-4pm). Contact jbkravmaga at gmail.com to register.
Pistol 101 is designed for the first time or beginner shooter. The 3 hour course will teach the basic knowledge, skills, and attitudes for safely owning and operating a pistol. This course will include both classroom and live fire sessions. $175 includes range fee, gun, and ammo. --
This course is SOLD OUT.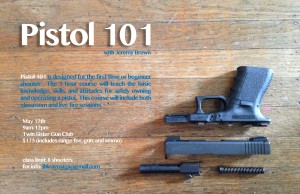 ITPS Refresher: Malfunctions and Speed Reloads. This 3 hour course will focus on clearing malfunctions and speed reloading. There will be dry fire, live fire, and stress drills designed to improve and create muscle memory. This course is designed for (but not limited to) those who have already completed ITPS1. $125 includes range fee.