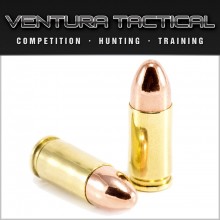 We have teamed up and created a tactical ammunition line that is priced for any shooting sport. These rounds are precision loaded in fully processed once-fired brass with a 115 Grain TMJ bullet. The combination yields a great value for any shooting sport. In stock and usually ships same day.
Caliber: 9mm
Bullet Style: 115 Grain Total Metal Jacket
Case Type: Brass, Once Fired
Muzzle Velocity: 1150 fps
Muzzle Energy: 340 ft/lbs.
Quantity: 50/Box
Proudly Made in the USA
Product Links:
Ventura Tactical 9mm - 50rd Box - $11.44
Ventura Tactical 9mm - 250rd Case - $53.94
Ventura Tactical 9mm - 500rd Case - $102.74
Ventura Tactical 9mm - 1000rd Case - $199.95