This is Sunday: FREE SEMINAR on CALIFORNIA GUN LAWS - July 27 at 11am at Bass Pro Shops in Rancho Cucamonga, CA. VIEW DETAILS HERE:
http://bit.ly/1mNM0WH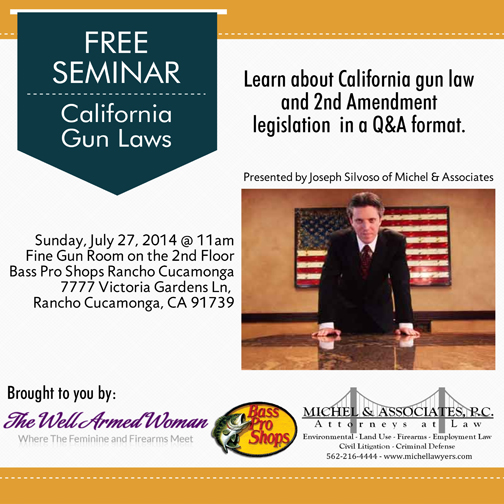 Presented by Joseph Silvoso, of Michel & Associates, P.C.
The discussion will include California gun law and 2nd Amendment legislation in a Q&A format.
Get all your questions about California's confusing gun laws answered!
This is a free seminar open to everyone!
Sunday, July 27 at 11:00am
Bass Pro Shops – Rancho Cucamonga, CA
7777 Victoria Gardens Ln
Rancho Cucamonga, CA 91739
The seminar will be held in the Fine Gun Room on the 2nd floor.
Hosted by The Well Armed Woman – Apple Valley Chapter