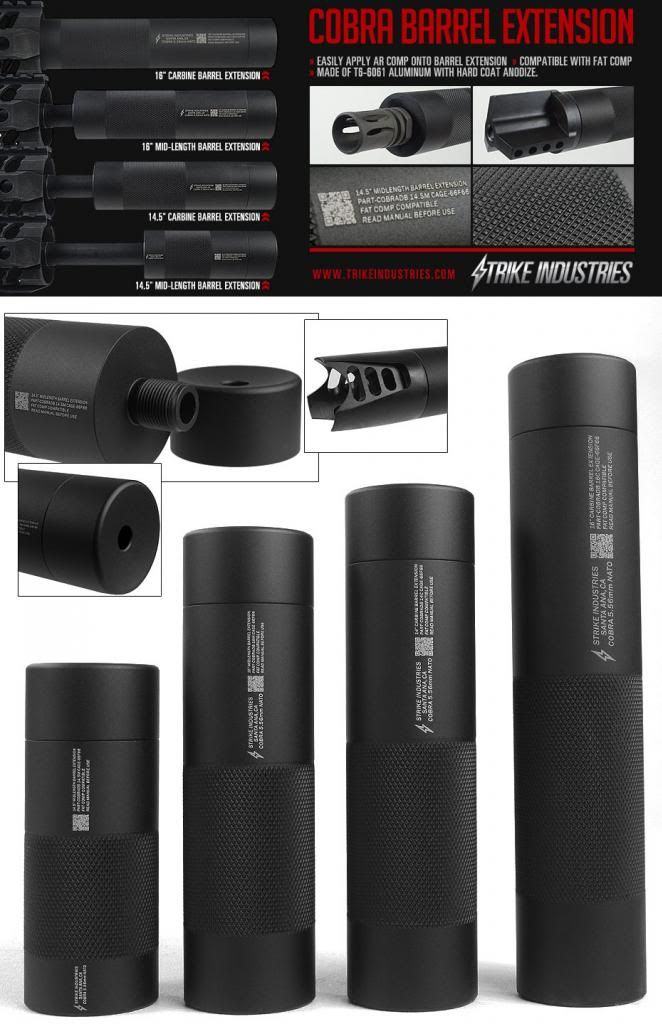 The Strike Industries Cobra Series 16"/14.5" Carbine or 16"/14.5" Mid-Length" barrel extension is designed to fully enhance the appearance of your rifle by hiding excess barrel length. In addition, by removing the front cap, you can install any ˝" x 28 AR threaded compensator for the functional purpose of reducing muzzle flash and recoil. The barrel extensions work exceptional well with the S.I. FAT COMP which is specially designed with the same diameter as the Cobra barrel extension, allowing it to sit perfectly flush. The S.I. FAT COMP and Cobra barrel extension make for a great pairing of both style and function.
Key Features:
•Easily apply AR comp onto barrel extension
•Compatible with FAT COMP
•Made of T6-6061 Aluminum with hard coat anodize.
More info and photo visit us at www.strikeindustries.com>>
http://strikeindustries.com/shop/ind...extension.html
__________________
Santa Ana, CA -
www.strikeindustries.com
/
www.jtechgear.com
Contact us at
info@strikeindustries.com

Now available through Cheaper Than Dirt, OC Armory, Rifle Gear, LA Police Gear, Operator Outfitters, and LifeLines Adventure Gear.